Do I Need a Real Estate Attorney in Dunlap IL?
If you are buying or selling property, you may wonder whether your transaction requires assistance from a real estate attorney in Dunlap IL. Though not all real estate transactions are complicated, an experienced real estate attorney can provide a lot of legal services that reduce your risk of complications. Attorney Jason Netzley from Brave Law Center can put years of experience with real estate law to make sure your transaction goes off without a hitch. Schedule a consultation with Brave Law Center now for help with the following real estate law matters:
Processing of sale and purchase agreements
Title search and examination assistance
Financial matters such as proration of property taxes
Representation during negotiations or contract changes
Reviewing all legal documents, contracts, and agreements
Scheduling and coordination of the closing and other meetings
Tracking and disbursement of fees and payments to involved parties
Real estate transactions come with lots of legally binding paperwork that can leave you at risk of short- or long-term liabilities. Schedule a consultation with our real estate attorney to protect your best interests.
Assistance with Debt Financing Arrangements
The structure of your real estate transaction may require entering into a debt financing agreement. Avoid second guessing yourself by getting an opinion on the terms of your agreement from our real estate attorney in Dunlap IL. Our attorney can review the agreement, point out any potential concerns, negotiate changes, and even draft a new agreement on your behalf. In addition, our attorney can provide you with ongoing counsel regarding the terms of your debt financing agreement. As a result, you get the assistance you need to minimize risk in your real estate transaction.
Experienced Negotiation for Complex Real Estate Transactions
Some real estate transactions involve complicated or unique deal points that require counsel from a real estate attorney in Dunlap IL. Consult with our real estate attorney if your transaction involves the following specialized terms:
Language that includes triggering of default events
Inclusion of a board of managers or several operating arrangements
Specification of future fundraising opportunities
Requirements involving solicitation arrangements
No matter the complexities involved, our real estate attorney can explain and simplify matters for you. That way, you fully understand the transaction terms, minimize risks, and identify areas of exposure.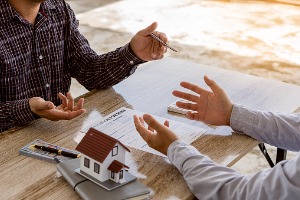 Simplify Transactions with Business Entities
Some real estate transactions require the formation of commercial entities and establishing the investment deal. For example, real estate investment trusts (REITs) can involve multi-level entity structure, investment disclosures, and management agreements. Meanwhile, other deals may require legal documents such as Limited Partnership Agreements, Private Placement Memorandums, or offering memoranda. Our real estate attorney can draft all the required legal documents and help with your formation of LLCs, LPs, or corporations. You can uncomplicate matters in transactions involving business entities with our real estate attorney in Dunlap IL.
Contact Our Real Estate Attorney in Dunlap IL
Brave Law Center attorney Jason Netzley can provide the counsel, negotiation, and representation you need for your real estate dealings. Whether buying or selling properties, negotiating a lease, or trying to resolve a landlord-tenant disagreement, consult with our real estate attorney in Dunlap IL. Use our online contact form or call 309-228-9136 to schedule a consultation.